The Kingdom of Bahrain
The Kingdom of Bahrain is becoming increasingly popular as a home and business destination.
Much of Bahrain's appeal lies in its favourable climate, further enhanced by its cosmopolitan atmosphere, friendly and courteous people and contemporary living.

The Kingdom has long been considered a place
of unity where east meets west, renowned for its warmth and hospitality to all who visit.

Banks, Currency Rates & Exchange Outlets
| | |
| --- | --- |
| Bahrain is widely viewed as the financial hub of the region. The official currency is the Bahraini Dinar (BHD), divided into 1,000 fils. Notes come in denominations of 500 fils, and 1, 5, 10 and 20 dinars. The BD is linked to the US Dollar at a rate of US$1=BD 0.376. Money can be exchanged at the airport, (which usually offer the best rates), commercial banks in Manama or at money changers operating in the Manama souq. Banks are located on all main streets of Bahrain with easily accessible ATMs (Automatic Teller-cash Machine). Credit cards and travellers cheques are widely accepted at hotels and the larger retail stores, but smaller shops generally prefer cash. It is easiest to carry travellers cheques in US dollars to avoid additional charges. | |

Climate
| | |
| --- | --- |
| Bahrain has two seasons: an extremely hot summer and a relatively mild winter. The summer months are from April to October. Temperatures moderate in the winter months, from November to March, when the range is between 10 °C and 20 °C. However, humidity often rises above 90% in the winter. Regardless of the season, daily temperatures are fairly uniform throughout the archipelago. | |
Shopping
All International brands are available in Bahrain, including a wide array of designer & high-street designer brands. Seef Mall is considered the most popular shopping venue and leisure outlet, whereas the neighboring Al A'ali Mall, & the Sheraton Shopping Complex provide more high-end retail.

No trip to Bahrain would be complete without a visit to the local souk where one can indulge in local handicrafts, nuts & spices, Bahraini gold, fabrics, incense, & a wide variety of popular sweets & other locally produced items.



Jewelry lovers will know that Bahrain's natural pearls are considered the finest in the world. Experts claim that they have a special luster and an exquisite range of colors. Bahraini pearl merchants proudly display them on ruby-red cloths to highlight their beauty; and many say it is no coincidence that the Bahrain state flag is red and pearl-white.
THE KINGDOM OF BAHRAIN AT A GLANCE

Manama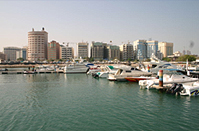 It is the capital city of Bahrain and is the country's largest city. It is the focal point of the Bahraini economy. Several multinationals have facilities and offices in and around Manama.

The economic base for Manama is financial services, with over two hundred financial institutions and banks based in the Area. There is also a large retail sector in the shopping malls around Manama's Seef district, while the centre of Manama is dominated by small workshops and traders.


Beit Al Qur'an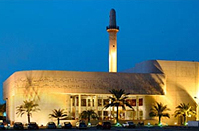 This means House of Qur'an in Arabic. It is an Islamic museum located in Hoora, in Manama.

Beit Al Qur'an was built to accommodate a comprehensive and valuable collection of the Holy Qur'an and rare manuscripts—a concept which is unique in the Persian Gulf. All visitors are welcome, and the complex comprises a mosque, a library, an auditorium, a school and museum consisting of ten exhibition halls.


Formula One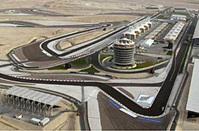 Bahrain is the home of Formula One racing in the Middle East. It began hosting the Gulf Air Grand Prix on 4 April 2004--the first for an Arab country. The race was won by Michael Schumacher of Scuderia Ferrari. This was followed by the Bahrain Grand Prix in 2005. Bahrain successfully hosted the Grand Prix 2006 season kick off on 12 March. Both the above races were won by Fernando Alonso of Renault.
The 2007 event took place on April 13th, 14th and 15th resulting in victory of Ferrari's Felipe Massa.
Tree of Life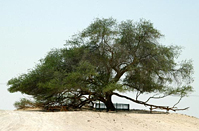 The Tree of Life is a 400-year old mesquite tree in Bahrain which is considered a natural wonder. This unique tree stands alone in the desert about 1.2 miles (two kilometers) from the Jebel Dukhan.

Its green foliage provides welcome shade and is a popular picnic spot, however its source of water remains a mystery.


Arad Fort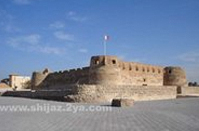 It is a 15th century fort in Arad, Bahrain. It was built in a typical Arab style.
Close to the Bahrain International Airport, the fort has been extensively renovated and presents a magnificent sight when it is illuminated at night.
It is believed that the fort was used by the Omanis during their brief occupation of Bahrain in 1800, and it's located adjacent to the strategic waterways between Bahrain Island and Muharraq.
A little is known of the fort history, and there is no firm evidence of the precise date of construction, but comprehensive excavations have been undertaken in order to discover its past.